Marsala Sauce for Chicken, Veal or Eggplant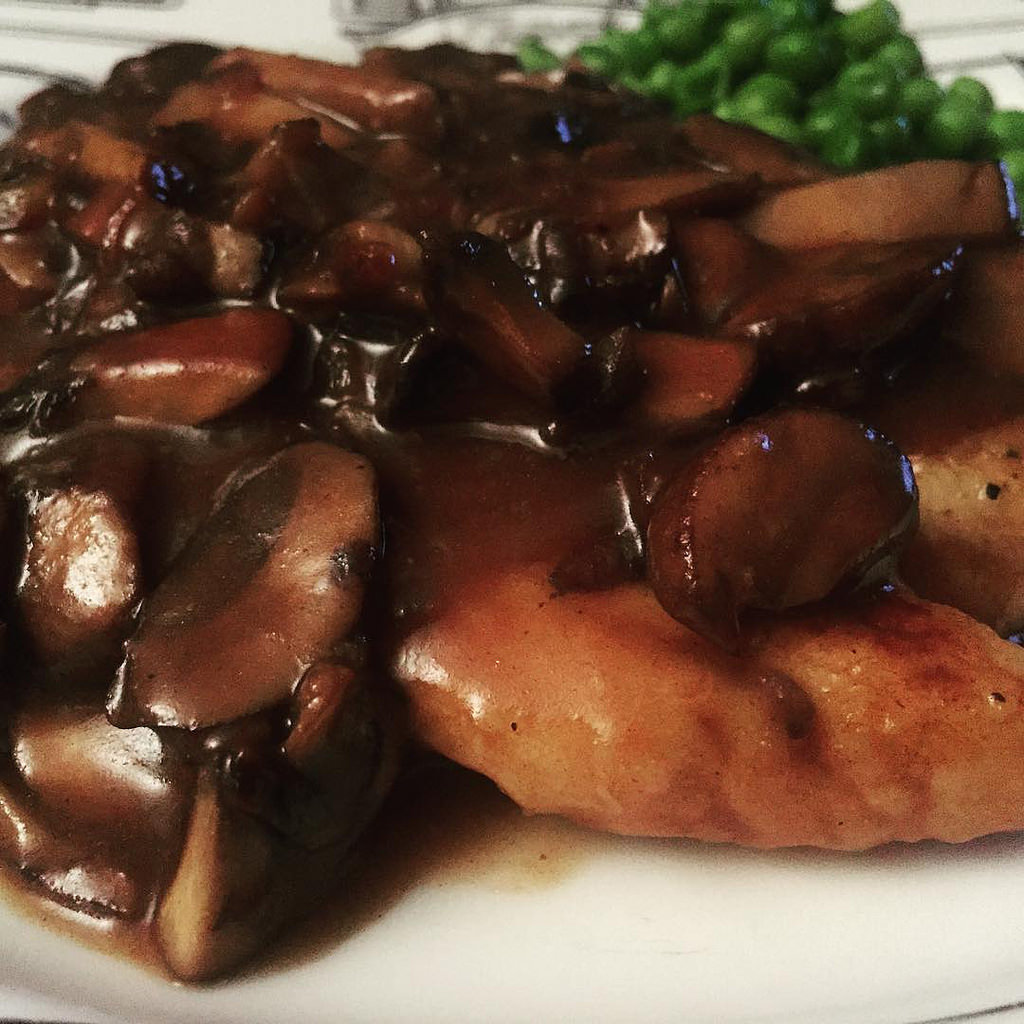 Marsala Sauce is a delicious, simple to make classic Italian mushroom sauce. You can use a mix of different Marsala Sauce for Chicken, Veal or Eggplantmushrooms or whatever you have on hand. You have the option to make this dish with either Chicken, Veal or Eggplant. Lightly dredged chicken breasts (veal or eggplant) in flour, make the mushroom sauce with Marsala wine and finish by briefly cooking the Chicken, veal or eggplant together. Serve on a bed of linguine, polenta or rice.
Marsala is an Italian fortified wine. When making a savory sauce like  Marsala, dry Marsala wine is the best choice; when making desserts, sweet Marsala is generally used.  Avoid the cooking Marsala or other labeled cooking wines because usually it has added ingredients, like salt, that you do not need.If you do not have any Marsala wine try another dry wine in its place.
Menu Idea:
Chicken Marsala
Fresh Pasta
Salad
Classic Marsala Sauce
Marsala Sauce is a classic Italian dish that is served on top of a bed of linguini pasta. This is an excellent dish to learn the wonderful flavors of a variety of mushrooms. The sauce and chicken, eggplant or veal can be prepared in advanced and finished off just before serving time.
Ingredients
1/4

cup

flour

1/2

teaspoon

salt

1/4

teaspoon

pepper

1/2

teaspoon

dried oregano

4

chicken breasts

skinless, boneless pounded 1/4 thick

4

tablespoons

butter

4

tablespoons

olive oil

1 -3

cup

mushrooms

(a mix of crimini or porcini oyster, shiitake mushrooms) thinly sliced

2

tablespoons

shallot

finely chopped

1/2

teaspoons

sage

finely chopped fresh

1

cup

Marsala wine

or a dry white wine

1

cup

broth

2/3

cup

cream

optional

1

teaspoon

fresh lemon juice

1/4

cup

parsley

chopped for garnish

1

lemon

sliced for garnish
Instructions
Marsala Sauce
Sauté shallots in 3 tablespoons butter in a skillet over moderate heat, stirring, until shallot begins to turn golden, about 1 minute. Add mushrooms, sage, salt, and pepper and cook, stirring occasionally, until liquid mushrooms give off is evaporated and mushrooms begin to brown, 6 to 8 minutes. Remove from heat and set aside.

Bring broth to a boil in the skillet over high heat, uncovered, until reduced to about 3/4 cup. Add wine to skillet and boil over high heat, stirring and scraping up brown bits, about 30 seconds. Add reduced broth, cream, and mushrooms, then simmer, stirring occasionally, until sauce is slightly thickened, 6 to 8 minutes.
Breading
In a shallow dish, mix together the flour, salt, pepper, and oregano. Gently pound chicken or veal to 1/4 inch thick between 2 sheets of plastic wrap using the flat side of a meat pounder or a rolling pin. Pat dry and then dredge in flour, 1 piece at a time, shaking off excess. An easy way to keep the mess down is to place the flour mix in a large plastic bag and shake to coat. All the mess remains in the bag. Lightly dredging the chicken (veal or eggplant) in flour helps it brown quickly and also gives the sauce a thicker, smooth texture as it cooks and thickens.

Heat 1 tablespoon each of oil and butter in a skillet over medium-high heat until foam subsides, then sauté half of chicken veal or eggplant, turning over once, until golden and just cooked through, about 4 minutes total. Transfer cooked chicken, veal or eggplant to a large platter, arranging in 1 layer, place platter in the oven to keep warm.

To Finish add the chicken, veal or eggplant and mushrooms to the sauce and simmer 10 minutes. Add lemon juice.

Serve with sauce, garnish with the parsley and lemon slices. The chicken, veal, and eggplant each offer their own special flavor, all of them delicious, and so easy to make.

Note: For eggplant, option peel eggplant and slice about 1/2 inch thick slices and prepare, as before. Some people sprinkle the eggplant sliced with salt and let it rest about a half hour. Then remove the salt and extra moisture. I personally skip this step. I find the moisture holds the flour perfectly. Delicious!
Recipe Notes
Below are just some of the items in the CookingTodayStore. Just click on the items below for more information.
Nutrition Facts
Classic Marsala Sauce
Amount Per Serving
Calories 555
Calories from Fat 306
% Daily Value*
Total Fat 34g 52%
Cholesterol 117mg 39%
Sodium 1036mg 43%
Potassium 397mg 11%
Total Carbohydrates 26g 9%
Protein 26g 52%
* Percent Daily Values are based on a 2000 calorie diet.