Peanut Butter Cookies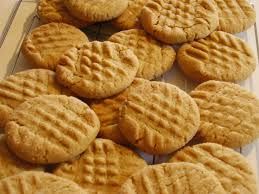 If you are looking for the best peanut butter cookie with lots of flavors – this is it! These are crispy, rich and full of peanuts. Peanut butter cookies are very easy to make and are perfect for a beginner. It was one of the first cookies I learned to make as a child. I know many people are now allergic to peanuts so if you are passing them out to a group, be sure to inform them that these cookies are made from peanuts.
Peanut Butter Cookies
Soft and full of peanut butter flavor.
Ingredients
8

Tbsp

unsalted butter

(1 stick)

1

cup

brown sugar

11/2

cup

peanut butter

chunky is the best

2

egg

1

tsp

vanilla

2

Tbsp

maple syrup

13/4

cup

flour

1

tsp

baking soda

1

tsp

salt

1

tsp

cinnamon

1/2

cup

peanuts

chopped

1/4

cup

peanut halves

(optional garnish)
Instructions
Preheat oven to 375. Prepare 2 ungreased cookie sheets or line with parchment paper.

Cream the butter, peanut butter and brown sugar. Then add syrup, eggs, (one at a time) and vanilla. Mix the flour, with the baking soda and nuts. Slowly add to the liquid mix stir until just blended. The dough should be tacky in feel and should just hold together. If it is too sticky, add in 1 tablespoon extra flour, a little at a time, and fold after each addition before deciding to add more.

Drop by the dough the cookie sheet ,shap into a ball, gently with your spoon or cookie scoop and then gently press down with a wet fork and flatten each ball making a crisscross pattern. Space 2 inches apart. *Optional-Top with one peanut half. Bake 10 minutes.

An option is to roll into a cylinder shape, about 2 or 3 inches thick, place on a piece of parchment paper and tightly roll up. Keep in the refrigerator or freezer. When you are ready for more cookies, thaw slightly and cut into slices and bake as before.
Recipe Notes
Nutrition Facts
Peanut Butter Cookies
Amount Per Serving
Calories 202
* Percent Daily Values are based on a 2000 calorie diet.